The School of Hard Knocks - Chapter 2
By The Hit Man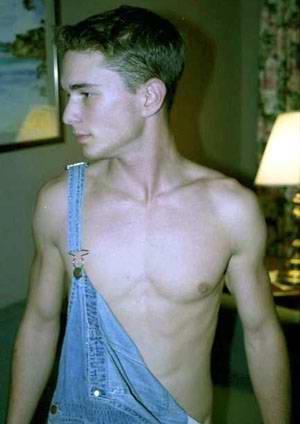 Tomas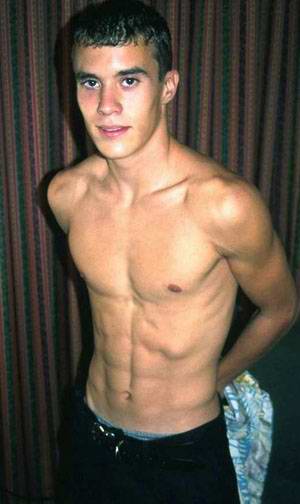 Diego
Diego stepped outside the restroom enclosure, his sore body enjoying the rays of sun that filtered down through the many trees that covered the area. He stepped behind one, waiting. Only he knew what for. Soon it enough, it became clear. Milo stepped out of the restroom as well, looking a little worse for wear. He looked around the area, seemed satisfied that it was safe, and headed back out toward the play area. Diego stepped out from behind the tree and re-entered the cool, dank air of the restroom. Still sprawled out on the floor was the unconscious body of Tomas.
Looking around, Diego found a bucket that he filled from the sink. Hauling it over, he threw some of the tepid liquid directly in Tomas' face. Sputtering and choking, Tomas began to come around. A twisted smile appeared on Diego's lips as his plan began to unfold.
--
Tomas came to as soon as the water was thrown in his face. Coughing and sputtering, the liquid having invaded his nose and mouth, clogging his breathing passages, Tomas had trouble focusing, unsure of where he was, what had happened, and most certainly, of what was happening now. Someone grabbed him by the hair and jerked his head back, bumping it against the wall. Tomas opened his eyes, recognizing Diego, starring at him, the boy's mouth twisted in an awful grin.
"Oh good, you are awake," Diego said. Before he could answer, Diego's fist caught him hard at a glance across the cheek, driving his upper body sideways to the floor. Consciousness threatened to leave him once again.
--
Diego watched as Tomas' eyes began to flutter. He grabbed Tomas by the hair and jerked his head up, banging it hard against the plaster wall. Tomas finally opened his eyes. Diego's twisted grin was the first thing to greet him.
"Oh good, you are awake," Diego said, just before smashing his fist down against Tomas' cheekbone, driving him flat to the ground. He was disappointed to see Tomas once again fighting consciousness.
"Oh no you don't," Diego shouted. He grabbed the bucket and splattered more of the water in Tomas' face. Tomas' eyes opened again.
Diego grabbed Tomas by the arms and dragged him away from the wall. He let go of Tomas' listless arms which flopped to the ground. As he did so, Diego dropped himself, planting his knees solidly into Tomas gut. WHOOSH. Diego smiled wickedly as the other boy's body reacted to the blow, the torso and legs both rising inches in the air. His knees fell to either side of Tomas torso, Diego now astride Tomas in a school boy pin.
--
More water splashed in his face and Tomas came right around. His arms were grabbed and he was roughly pulled on his back across the hard packed-dirt floor. When his arms were released, they simply flopped to the floor, Tomas not having any strength to hold them up. Just as his eyes focused on Diego who stood above him, he disappeared, dropping out of view. But not for long. For as Diego's knee rammed into his gut, Tomas torso and legs were driven upward, his breath completely driven out by the blow. His eyes found Diego once again just before his body fell back to the ground, his weight now on Tomas punished stomach. Tomas gasped and wheezed for breath.
--
Diego bent his arm and drove his elbow down as hard as he could directly into Tomas sternum. OOF. Tomas tried to raise his arms in defense. Diego grabbed them at the wrists and slammed them to the earthen floor. He leaned forward as Tomas tried to wriggle free, his body weight easily holding the weakened boy in place. As he leaned, he let a slide of drool drop from his mouth, the spittle landing directly on Tomas' forehead. Diego finally saw some fire appear in the other boy's eyes.
--
Tomas saw the blow coming but could do nothing to stop it. The elbow blasted into his bone just above his ab's. The pain was incredible but it also severely hampered his breathing as well. Tomas began to wriggle, trying to dislodge Diego. His wrists were grabbed and his arms slammed to the dirt. As Tomas looked at Diego, a train of spit fell from the other boy's mouth, landing on his forehead. As weak as he was, Tomas felt the flash of hatred that filled his eyes, bringing with it a new burst of energy.
--
Diego could feel the energy coursing through the boy that lay below him. But he was confident that he was capable of carrying out what he had started. Tomas twisted and yanked, bucked and heaved, bent and grabbed but through it all, Diego simply adjusted and countered, managing to hold Tomas in place. Finally using up the energy reserves that had burst forth, Tomas lay still again.
"Now, the fun begins," Diego said, a slight laugh to his voice. Suddenly, a burst of light filled the restroom. Diego glanced back, afraid it might be a teacher. A chill filled his heart as he realized it was something worse, much worse. It was one of Tomas' older brother's.
--
Tomas did everything possible he could think of to dislodge Diego from his perch but it was all to no avail. Struggle as he might, the new burst of energy was soon expended. Tomas lay back in defeat.
"Now the fun begins," Tomas heard Diego say just as a light appeared behind Diego. Tomas knew someone was entering the restroom. He hoped it would be a teacher. At least that way, this fight would be over until he regained his strength and could carry it on in his own time. He saw Diego glance back. But then he noticed the other boy change from conqueror to victim. Tomas raised his own head to see who it was. His entire countenance changed as he recognized Renaldo, his older brother by two years.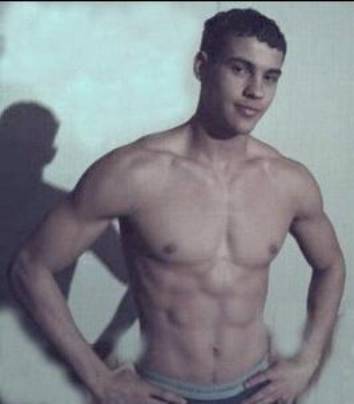 Reynaldo
--
Reynaldo had just finished swim practice and was looking for Tomas to steal some lunch money from him. He had lost his own throwing pennies against the wall with some of the other boys but Reynaldo knew that Tomas shook down the other children regularly so there was plenty to share. Someone had directed him to the restroom. Reynaldo entered the darkened room, his eyes adjusting. As they did, he immediately saw two boys on the floor. I should have known he was fighting, Reynaldo thought to himself. That was when he realized Tomas was on the bottom.
--
All of his plans now flown out the window, Diego's mind immediately began to think of how he was going to get out of this situation. If he jumped up and ran now, he thought he might just be able to slip past the bigger boy as his eyes were still adjusting to the dim light. He began to rise when Tomas grabbed his wrists. Diego struggled to break free but Tomas held him tight. His stomach turned to water when Tomas spoke.
"You're right, Diego. Now the fun does begin."
--
Tomas realized Diego was preparing to flee. He reached up and locked onto Diego's wrists. He knew he only had to hold him for seconds. Then Reynaldo would step in.
"You're right, Diego. Now the fun does begin." Tomas saw Reynaldo step forward, his muscled arms reaching for Diego. His heart burst with joy.
--
Reynaldo hesitated for a second, wondering if it served his younger brother right to be caught in this situation. He obviously had bitten off more than he could chew. But then again, he was family. Hesitation over, Reynaldo moved to assist his younger brother.
His strong arms caught the boy on top, looping under his arms and clamping behind his head, a nice tight full-nelson. With no effort at all, he hauled the boy to his feet, freeing Tomas.
--
Diego struggled but it was now he who was caught in a motion not of his own choosing. Tomas brother, his muscled arms easily clamping him in a hold, bodily lifted Diego up, easily controlling him. Diego tried to raise his arms, letting his body weight pull him down out of the grasp but it didn't work. Instead, his head was forced down until his chin almost touched his chest. Diego watched with trepidation as Tomas hauled himself to his feet. Without a word, he delivered a fist to Diego's midsection. Diego was ready and it did little harm other than redden his skin. But how long would that last, Diego wondered, as he saw Tomas prepare a second blow?
--
Tomas watched as Diego struggled uselessly against Reynaldo's firm grasp. Reynaldo could easily break Diego in two, of that Tomas was sure. He grinned as Diego's head was forced downward against his will. Tomas hoped it was as painful as it looked. He doubled up his fist and blasted Diego in the gut. His hand met muscled resistance, the blow glancing off Diego's defined ab's. We'll see how long that lasts, Tomas thought to himself as he prepared another blow.
--
Reynaldo easily controlled the muscled but younger boy. He could feel the boy's strength but it was no match for his own. An escape trick failed and Reynaldo bent the boy's neck down to prevent any further attempts. He watched as Tomas got up and threw a fist into the other boy's ab's. The blow was a good one but Reynaldo had to admit he was impressed that the boy's musculature held off the power behind the blow. Maybe he should just let the two of them duke it out. Before he could think any further, Tomas delivered his next blow, an illegal one, to the other boy's groin. Reynaldo felt the boys knees buckle and he now supported him.
--
Diego was concentrating on Tomas' balled fists and didn't see the illegal blow heading for his groin until it was too late. As Tomas' foot smashed into his precious jewels, Diego buckled, only held up by the larger boy who stood behind him. Now Tomas threw a bevy of blows into Diego's ab's, each one easily working its way through his muscles, punishing his inner organs.
--
Tomas knew Diego was concentrating on keeping his ab's tight. Acting as if preparing to punch again, Tomas threw his foot, catching Diego unaware. Tomas saw Diego's knees buckle, his weight totally on Reynaldo's arms. He stepped in with a flurry of blows that quickly and easily defeated Diego's ab's.
--
Reynaldo has to admit he was impressed with his brother's ingenuity and ability to destroy his enemy, easily and completely. As he supported the boy's weight, Reynaldo could feel each blow leveled by Tomas. As the blows continued, they seemed to reach further and further into the other boy's innards. It was as if Reynaldo could feel Tomas' fist against his own ribs.
--
Diego was having trouble breathing. Between the force on his neck and Tomas' continuing barrage, Diego knew he would not last long. Tomas stepped in close and Diego made his move. Lifting his legs as high as he could against the screaming of his burning abdominal muscles, Diego kicked Tomas as hard as he could in the chest. Tomas was thrown back against the sink. The move also caught Reynaldo unaware and he crashed back against the toilet stall. It seemed to knock some of his breath out for the gold on Diego's neck loosened. Diego slid down and out and was free. While the odds were on his side, he rushed forward, crashing his own foot up into Tomas' exposed privates. Tomas crumbled to the floor, groaning in pain.
Diego turned toward the door, his only escape. Reynaldo was already recovering, almost back to full strength. Diego charged, scooping up the water bucket he had used earlier. As he approached Reynaldo, he swung the bucket with all his remaining strength, the metal bending in as it smashed against the side of the bigger boy's skull. Reynaldo went down also. Diego was out the door, his tattered clothing flapping in the wind. He heard Tomas yell at him.
"This isn't over, Diego."
--
Tomas didn't see the move coming, anymore than Diego had his blast to the groin. As Diego's feet pushed against his chest, Tomas was sent spiraling back, crashing hard against the cast iron sink, the force pressing in deep into his kidneys. He watched helplessly as Diego slithered free from his brother's hold. Diego came running forward and planted his own foot directly between Tomas' legs. Tomas fell groaning to the ground. He starred as Diego crashed a bucket upside Reynaldo's head, bring the bigger boy down as well. Tomas saw Diego disappear out the door.
"This isn't over, Diego," Tomas managed to yell out.
--
Reynaldo wasn't ready for the push off and it knocked him off balance. He fell back against the stall wall, the blow knocking his breath out. Suddenly the boy he had held so easily was loose. Reynaldo watched as the boy blasted his foot into Tomas. But even as Tomas fell, Reynaldo was feeling his own strength returning. He made to catch the boy when something smashed into his head. Reynaldo fell unconscious, joining his brother on the ground.
--
Deep inside, Diego knew what Tomas shouted was true, but it would be on his terms once again, not that of Tomas and his older brother. He didn't stop but ran straight out the gate, heading home. He and his father would have a lot to talk about tonight and some serious training to boot. It was his mother and his ruined clothes that now worried Diego. But he had the rest of the way home to come up with a story. He figured he would need it.