The Teen Muscle God of Jealousy - part 1 By The Hit Man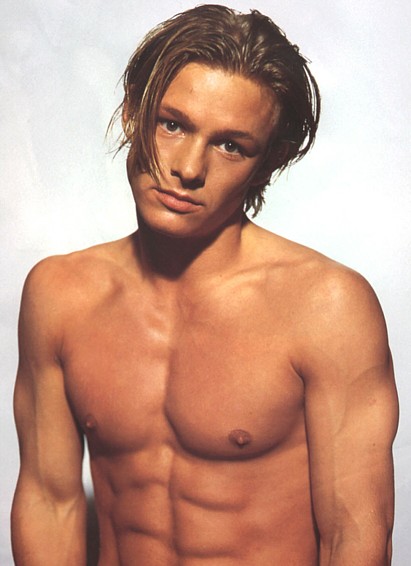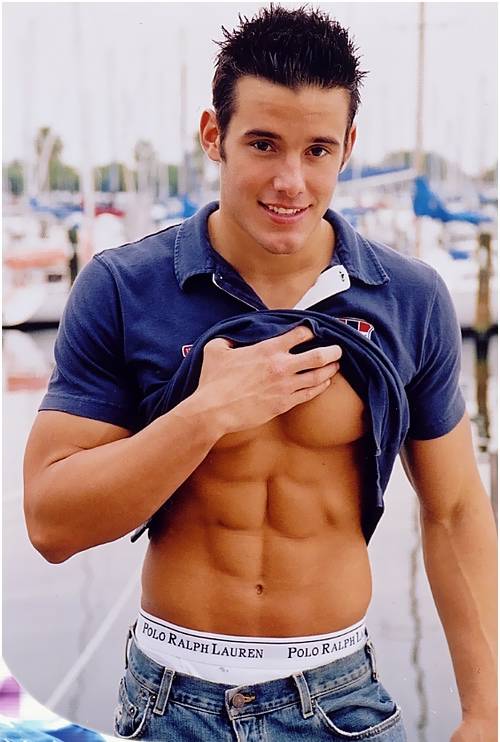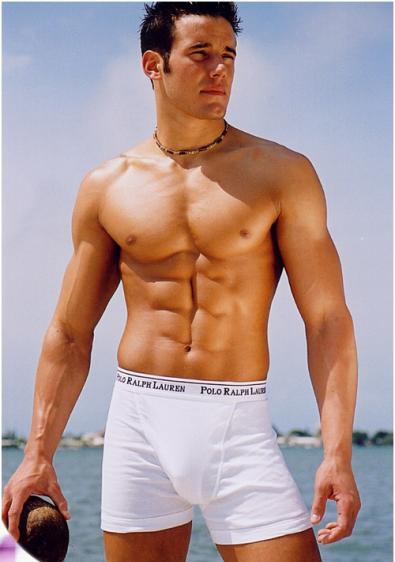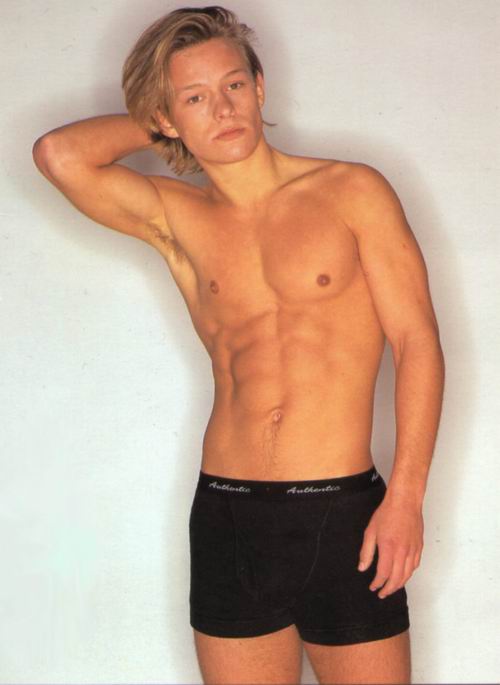 Adam wasn't different than most males who had spent a good portion of their time on earth honing their God-given muscle into something worth looking at. All in all, he was proud of the look he had achieved, most proud of going from a regular six pak to an eight pak. A feat that few had accomplished while so young.
But today, while churning through familiar sites of teen muscle guys, he found a site with a posting that disturbed him. It wasn't so much that Adam thought the fellow pictured actually stood out beyond the musculature that Adam himself had developed. It was what the replies indicated. That this was "the best set of ab's since Adam Rickett". Right there in print for anyone surfing the net to see. Adam was having trouble seeing straight as he laid out a private message to the administrator of the board. He had to know if this fellow had a name.
+++
It hadn't taken long before Adam had a name and address for this one who would dare to be compared to himself. He called down to the building lobby, asking the garage to have his Mini-Cooper brought around. It was a toy for him, bought after seeing the movie, The Italian Job. Using his on-board computer, he laid out a course for paying a visit to Jericho, the name he had obtained from the board administrator. Adam hadn't even minded posting a payment to support the board in exchange for the information. A little quid pro quo some would say. Blackmail others might call it. Either way, they each had what the desired.
+++
It was late afternoon when Adam pulled up out front of his destination. Finding his way through the Rolling Hills Estates hadn't been so difficult with his online computer. It was the guarded gate that had slowed him a little. But a few pictures, autographed for the guard's daughters had worked the desired magic. He pulled up in front of the house, shutting off the car but sitting in his car, watching the house. According to the gate guard, this Jericho wouldn't be home from work for another half hour or so. A real working stuff, Adam thought to himself.
Climbing out of the car, he casually strode up to the house. Working his way around back, he checked in the most likely places for a door key and found it on his second guess, a hollowed out rock built into a small wall surrounding a garden area. He let himself in, happy to find that though the house had an alarm system, it was not set.
Adam made himself at home while he waited.
+++
Adam heard the motor of a muscle car turn into the driveway beside the house. That should be Jericho now, according to what the gate guard had indicated the young man drove, a rebuilt 1969 Chevrolet Camaro. The air within the house pulsated from the engines revved up engine. There was no quiet until the engine turned off. Adam heard the back door open and close. He stood just inside the doorway leading to the bedrooms. As Jericho walked through the opening, he had not a moment to respond as Adam laid him flat on the floor with a powerful roundhouse to the jaw, dropping him with the one blow.
+++
Jericho's jaw hurt like hell as he came around. He opened his eyes, his mind confused and having trouble wrapping itself around where he was. His feet were on the floor but his arms were tied behind his back and rope was wrapped around his chest, looped under his arms and then stretched upward over the exposed beams in the garage.
"What the fuck is going on," he bellowed, regretting it instantly as the pain in his jaw flared up at the use of his jawbone. A figure stepped out of the darkness. Even in his confused state, Jericho recognized the star figure that stood before him.
"Aren't you Adam Rickett?" Jericho spoke much softer now, trying to avoid further pain in his jaw. The lone figure didn't answer. Instead, a fist connected hard and fast against Jericho's lower ab's, just above his belly button. Totally unprepared, the blow easily pushed past his musculature. And because it had struck just as he was exhaling, it knocked his breath out also.
"Shit," Jericho managed to croak out, "just what is going on here?" A second fist flew but Jericho was more prepared this time. The blow was still good and solid but Jericho managed to deflect the worst of its power. Adam ripped a piece of paper from his shirt pocket. As he unfolded it, Jericho simply hung, helpless to do anything about his situation. Adam thrust the paper up in front of Jericho. It had writing on it. Jericho read it through before saying anything.
"Yeah, so what, so someone compared me to you. What's the big deal?"
"But you aren't anything like me," Adam snarled, yanking his shirt off, exposing his muscular torso. "See!" With that, he reached forward and ripped Jericho's shirt open from top to bottom, the buttons clattering around his feet on the cement floor. His face red with anger, Adam began punching Jericho's now exposed ribs and torso. His punches were strong and forceful; each working it's way a little deeper into Jericho's muscles.
Jericho knew his torso was well-muscled but as Adam continued to pelt him with punches, he realized it wouldn't be long before he would no longer be able to withstand them. It was then that Adam raised the bar as they say. He stepped to one side and instead of his fist, Adam slammed a knee into Jericho's gut. WHOOSH. Jericho's air was once again driven out. A second knee on the opposite side forced Jericho to try and raise his legs to relieve some of the pain. But because of the way he was tied up, he was unable to support himself in that position for more than a few moments. Each time his legs started to straighten, Adam started the barrage afresh. Jericho was having trouble breathing, his vision starting to darken around the edges. Adam laid in a couple more shots and then a real hard cheap one. He blasted his knee directly into Jericho's groin. The excruciating pain blasted into Jericho's brain, driving his consciousness out as easily as it brought the contents of his stomach up.
+++
For the second time in one night, Jericho awakened, his body wracked with pain. But now not only did his jaw, gut, and balls hurt, there was a burning strain in his arms. Jericho quickly came to realize his feet were no longer planted firmly on the ground but that he could just reach it when on his tiptoes. When not in that position, the weight of his body was supported by his arms tied behind his back.
"Oh good, you're finally awake," Adam said, lifting himself from a simple canvas lawn chair he had found in its container in the garage. He walked straight up and punched Jericho. OOMPH. Even though the blow wasn't as hard as the earlier ones, Jericho's ab's were no longer in the shape they had been either. Adam threw a series of one-two punches directly into Jericho's ab's, each blow landing in exactly the same spot as the previous hit. Jericho's torso was already a series of black and blue bruises. The pain from the hits combined with the strain on his shoulders and arms and Jericho found himself in a world of hurt. The very world that Adam Rickett wanted him in.
"See, what did I tell you? You aren't nearly as well muscled as I. Your ab's are a complete mess." Adam continued the barrage as he spoke.
"Let me down from here and we'll see whose ab's can stand up best." Adam redirected his next fist straight into Jericho's mouth. Blood spurted from Jericho's split lip.
"I don't think I like your tone," Adam said. With that, he gave Jericho's body a hard shove, lifting his feet off the floor. As Jericho's body swung back, he tried to get a hold with his toes but Adam didn't give him a chance. As Jericho's body swung forward, Adam caught him like a tackle guard, driving his shoulder directly into Jericho's breadbasket. The strain on Jericho's arms was incredible as he supported not only his own weight but that of Adam also. Adam let him go, Jericho's body swinging out of control as it came back toward the center of gravity. Adam now stood behind Jericho. He blasted each of Jericho's kidney's with a well-aimed fist. Whether he meant them to or not, Jericho's legs pulled up toward the fetal position. His body was covered with sweat as he tried to withstand the punishment being meted out. Once again Adam stood in front of him. Jericho knew he couldn't take much more.
"What the god damn fuck is going on in here." It was a voice Jericho recognized immediately, even through his veil of pain. It was his best friend Josh.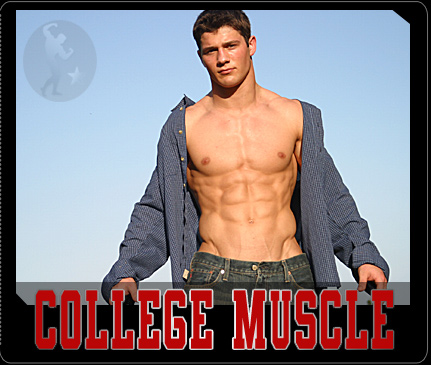 Surprised by the voice, Adam spun around. Josh cold caulked him with a single blow to the jaw. More quid pro quo as they say as Adam's body fell unconscious to the garage floor.
Teen Muscle God of Jealousy - Part 2
By The Hit Man
Jericho didn't think he had ever been so glad to see someone in his entire life. The burn in both his shoulders and his gut had almost reached the point where he didn't think he could stand it anymore. Jericho felt a great sense of relief wash over him as Josh walked over to where Adam Rickett, who by the way still lay unconscious on the cement garage floor, cold cocked by a single punch, had tied the rope that held Jericho in place.
Actually, as he was lowered, Jericho felt a new flash of pain as the weight burden was taken from his arms and shoulders, especially where the rope had dug into his flesh. As his feet gained purchase on the floor, Jericho felt lightheaded and closed his eyes to help equalize the spinning room. Any moment now, he would be free. Any moment. Jericho re-opened his eyes. What was going on, he wondered to himself. He was still tied up. Josh was walking away from the rope toward Adam's inert body on the floor.
"What the fuck is up, Josh? Is the rope stuck?" Jericho couldn't hide the anxiety he was feeling at the moment, especially as Josh ignored him, instead hoisting Adam up into a sitting position. Josh then proceeded to tie Adam up as well.
"What are you doing, Josh? Let me down from here." Josh couldn't help but notice that Jericho's pleading voice has risen a couple of octaves. Then it got serious and threatening.
"Josh, I mean it man. Get me down from here now or you're gonna regret it." Josh walked over and stood in front of Jericho.

"I already do. Now, why don't you shut up for a few minutes?" Josh plunged his own fist deep into Jericho's already punished solar plexus. As Jericho gasped and sucked in air, Josh completed the task of heaving Adam up into a position similar to Jericho's.
+++
Filling a pail with water from the spicket that Jericho's dad had so graciously installed in the garage, Josh threw the water directly into Adam's face. Adam came awake, sputtering and coughing, his eyes instantly registering anger as he realized the situation had totally changed. And it wasn't in his favor either.
"So, you're the famous Adam Rickett," Josh taunted. "You don't look so tough to me, mate."
"Let me down from here and you'll see how tough I am." Adam suddenly realized how closely his own words echoed those Jericho had spoken not much earlier.
"Not before we have a little fun," Josh said, a hint of humor in his tone, "or at least me having some fun. I think you're actually not going to find this terribly amusing." With that, Josh doubled up his fists and began a series of devastating blows directed at the famous Rickett ab's. A practiced and seasoned Golden Gloves contender, each of his punches was fast and furious, none missing their intended mark. That, combined with his training as a wrestler and his whole body workouts, Josh was a power house of muscle and training. And he was just beginning to enjoy unleashing it.
Watching Adam getting punched didn't exactly lighten Jericho's assessment of the situation. Josh obviously had his own agenda and right now, his close friendship obviously wasn't top on the list. At least with his feet on the ground, he wasn't suffering quite as much. He tried swinging himself around, trying to loosen his bonds but it only seemed to make the knots tighter. Even though Adam had been mercilessly pounding on him only a few moments ago, Jericho actually felt sorry for him as Josh continued his barrage of blows.
Adam had never been on the receiving end of such a flurry of blows. Or blows that seemed to contain so much fury. While he had spent endless hours honing the muscle walls of his torso, they had never truly been tested. Nor had he ever intended for them too be. They were just a part of the persona he had created for himself, a show piece. A show piece that was quickly and systematically being destroyed. Adam could hardly draw in a breath as blow after blow punished his already devastated muscle. And the strength behind the blows hadn't diminished one iota since the onslaught had begun. Adam's head hung almost to his chest, the strength to hold it up long gone. Suddenly the blows stopped. Adams head was jerked upward so he was looking eye to eye with Josh.
Josh noticed that Adam was starting to waver between consciousness and that release that came with crossing over to being unconscious. Josh grabbed a hand full of Adam's blond hair and roughly jerked his head up, the two starring at each other, eye to eye.
"Stay with me, glamour boy," Josh said nonchalantly. "Don't want you missing any of the show I have for us here today." Adam hocked a wad of spit right in Josh's face.
"Oh shit," Jericho whispered quietly, still a captive in his own garage, helpless to do anything but watch and wait. Josh let go of Adam's hair. Jericho could see that Adam had to dig deep inside to find the strength and will to keep his head up, maintaining his eye to eye contact with Josh. Jericho's friend wiped the spittle from his face, all the while maintaining a look of perfect calm. That was what scared Jericho the most. He knew the look on the outside belayed the ferocity that was preparing to explode from the inside.
Josh could feel the internal fire building, preparing to explode like a world-class volcano. He turned slowly away from Adam, his mind centering on the punishment he was preparing to mete out to this insolent bastard.
"Go ahead, you coward," Adam taunted. "Give it your best shot." Adam followed his words with laughter and though it sounded hollow, it was laughter none the less, adding insult to injury.
Jericho realized he was holding his breath, knowing the moment was here that Adam was going to regret his words. As he watched, Josh spun, one leg going high in the air, a perfectly executed high reversal karate kick that caught Adam straight across the cheek and chin with such force that his head was snapped almost completely around before his body could catch up in like manner from the centrifugal force of the blow. Adam's head was no longer held high in defiance. It, in fact, lay back, caught by the rope that held his body in limbo. He was now unconscious and not likely to be waking any time soon. What surprised Jericho the most was he didn't even know Josh knew martial arts?
+++
Josh, satisfied with the results of his retribution on Ricketts insolence turned his attention to his friend, Jericho. He was amused by the look of surprise on his friends face.
"Didn't know I knew karate, huh?" Jericho hesitantly shook his head no. "Well, life is full of little surprises, isn't it?" Jericho didn't have time to respond as Josh released a power punch into his ab's, only to be the first of many. Josh talked as he punched.
"I'm surprised … PUNCH … that little shit … JAB … was able to do so much … HIT … damage to your ab's, man." PUNCH. "I thought you had … KNEE KICK … built up a lot more muscle … and endurance … 1-2 COMBINATION … than I'm feeling now." JAB "In fact, … ELBOW TO THE STERNUM … you're feeling pretty much … KNEE KICK … like a wus to me right now."
"Why are you doing this, Josh?" Jericho could hardly get the words out, his breathing severely hampered by Josh's continuing blows. Josh starred at Jericho for a moment before answering.
"Because I can, bro." With that, Josh unleashed a series of punches that carried his fists well past Jericho's musculature, pulverizing his internal organs. He didn't stop until Jericho also hung, supported only by his ropes, his pain also gone only because he was unconscious.

Teenage Muscle God of Jealousy - Part 3
By The Hit Man
Adam came awake boiling over with anger. He had always been the one to mete out whatever justice he deemed necessary. Like what he had been raining down on Jericho before a third party had stepped in.
"Get me the god damn fuck down from here," he shouted as soon as his mind started to function again. His eyes scanned the darkening garage only to find Jericho still hanging as well.
"What the fuck is going on here," he shouted out. No answer came back. Adam wriggled and squirmed but to no avail. He was tied up real good.
"Looks like he's left us here alone." The voice startled Adam and he spun to find his original prey awake as well.
"Who is he?"
"My best friend," Jericho answered.
"I hate to sound like a cliché but with friends like that, who needs enemies." Both young men chuckled half-heartedly at this small attempt at humor. The exterior door to the garage opened and Josh stepped in.
"Glad to see you're both in such good humor," he chided Adam and Jericho. "Ready for round two?"
"Why are you doing this, Josh," Jericho asked?
"Why are you doing this, Josh," Josh mimicked Jericho, putting a whiny high voice spin on the question. "I already told you, because I can!" Josh pulled a pair of lightweight lifting gloves from his back pocket and slipped them on.
"There's almost a thousand bucks in my wallet, you god damned fucking homo. Let me down and it's yours." Josh stepped up real close to Adam, his eyes flashing angry.
"You know, Adam … I can call you Adam can't I … well I hadn't really decided who to start with this round. But a thousand bucks, well that's quite an offer. So, I guess that means it's …" Josh didn't complete his sentence. Instead, he delivered a gut busting fist to Adam's lower ab's. The blows continued, peppering Adam's entire lower torso. Adam tried to hang tough and though his ab's had recovered to a certain point, they weren't up to par and it wasn't too many blows before he was gasping for breath and groaning with each new punch.
Jericho tried to swing himself over, hoping to catch Josh with his legs but there was too much distance between the two trapped bodies. Jericho had to admit Josh had real style with the way he punched. In fact, Jericho started to find himself turned on by the action. His groin was heating up, his lower muscle coming to life. And unfortunately, it was then that Josh decided to turn some attention to Jericho.
"Well, look at that. Jericho is looking downright fluckable. What do you say to that Adam?" Josh moved in and delivered a single blow to Jericho's groin. Jericho's knees buckled at the pain. "What do you say, Adam. Give old Jericho a good fuck and maybe I'll let you off easy?" Josh turned back toward Adam, waiting for an answer. Adam's voice was husky from the ragged breathing.
"If that's what it takes to get you to stop. Is that what it will take?" Josh didn't answer but walked to the wall and loosened the rope that held Adam in one spot. Adam was weak and had trouble keeping his balance. He turned to Josh to have the rope taken off his bound hands.
"I don't think so, Adam. You'll have to do it with your mouth. You know an old fashioned blow job. You still up to it or do I resume on your worthless ab's?" Adam sank to his knees just in front of Jericho. Josh pulled down Jericho's shorts, exposing his hardened instrument. "All yours, Adam."
Jericho tried to push Adam away with his feet. Josh walked over and punched him a good one, knocking his breath out.
"Behave yourself, Jericho. Adam is looking at the Promised Land. You wouldn't deny him that, would you?" Jericho didn't answer. Josh punched him again. Jericho fought to keep the retch in his throat down while shaking his head no.
Josh pushed Adam closer until he could get his mouth around Jericho's manhood. He had had many blow jobs but had never given one himself. But he got the hang of it pretty quick and Jericho got bigger as Adam slid his mouth back and forth. Just as Jericho looked like he might fire, Adam started to pull away. Josh shoved his head forward and the cum exploded in Adam's mouth, coating the back of his throat. Adam began to gag at the fluid in his throat.
"Now that wasn't so bad, was it boys?" Josh reached down with his pocket knife and sliced the rope holding Adam's wrists. Adam sank to all fours, hacking the while, spitting on the floor. Josh walked over and yanked him up by the hair. Adam screamed. Josh lifted him off the ground with the next punch. And the next. And the next. Josh punched him until they reached the wall. Then while holding him up with one hand, Josh continued the onslaught until Adam collapsed unconscious. Josh turned back toward Jericho who, though now flaccid, still wore his shorts down around his knees.
As Josh approached, Jericho saw that Josh was wearing a sizeable bulge under his own pants. Josh walked over to the binding rope and lowered it. As he came back, he lowered his own drawers, exposing his own swollen rod. Jericho starred at Josh in disbelief. Josh punched him once, dropping Jericho to his knees. Grabbing Jericho by the hair, Josh forced his head back and crammed his hardness into Jericho's mouth. Jericho was gagging but Josh held his head firm by the hair and chin as he rocked himself to fulfillment in Jericho's mouth. But as he felt himself coming, he yanked his piece out so that the hot fluid sprayed over Jericho's face.
"Well, I think this has been one hellova productive day, wouldn't you say Jericho?" With that, Josh sliced through the cords that held Jericho as well. "Now, I think it's time for your to exact your revenge on our guest Adam there, don't you?"