That little punk Robby by Bugpinner
pictures by AdmiralLuke BF110
From the first I saw him; I disliked that little punk Robby.
Finally having enough of him and his smart mouth, I challenged him to a one on one fight just us. We agreed to meet behind an old abandoned house not far from the school on that following Saturday at noon. After a little persuading, he also agreed to have my friend Josh document our battle with his new camera. I was looking forward to the ass kicking that Robby was going to receive.
To my surprise he was waiting for us when we arrived "Let do this ", he said then stating flatly that" he was going to pound my ass into the ground". With me being bigger that him, I knew that was not going to happen. We removed our shirts and squared off.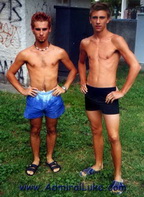 The fight started out well enough I threw a left, then a right followed by another left. I could hear the slap of flesh being hit, he grunted each time my fist made contact.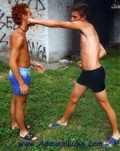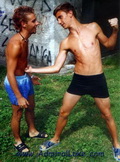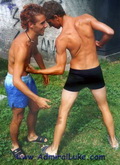 I can tell you it was quite a rush. Out of nowhere a right uppercut rocked my head back and for a moment I saw stars.

Then two weak shots to my tightened midsection, since I had my abs tightened so they had little effect. I remember thinking this was going to be a piece of cake.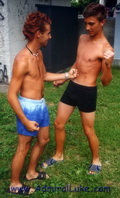 To my surprise he followed with a well placed knee that came crashing into my nuts.

I never figured that the little prick would not be fighting fair. I was totally racked with pain, not being given time to recover he buried several hard punches going deeper into my midsection.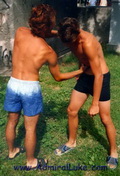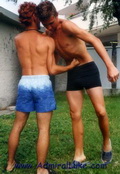 The last one lifted me off the ground a little. As I struggled to catch my breath, he dropped his guard for a few seconds. He smiled, followed by him throwing out a weak left cross. It felt like he was toying with me, like a cat playing with a mouse. I wondered if he was thinking he had that this fights all ready won. He then threw a half hearted punch to my navel.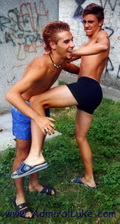 I saw my chance, driving my knee just under his rib cage I heard him gasp as the air was being driven from his lungs. With everything I had I threw a right cross that landed on this jaw. That knocked him into the empty house behind him.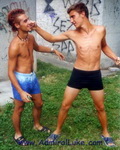 I begin to work him over. Finally I saw what I thought looked like fear in his eyes. I was enjoying giving back some of what he had just given me.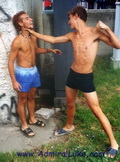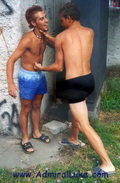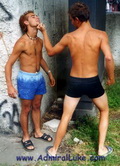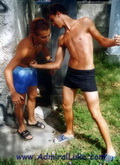 Then it happened, he planted his foot once again into my nuts and I heard a loud scream escape from my mouth.

Next thing I felt was my body being thrown against the rough surface of the abandoned structure. .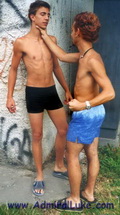 My head hit the wall with a dull thud that sounded like a ripe melon being thumped; everything was now in a blur. Dazed, each strike seemed to weaken me. It was his turn to work me over. He was punching my face, then my exposed belly .He was hitting me with a series of lefts and rights to my head and body ,the world was spinning.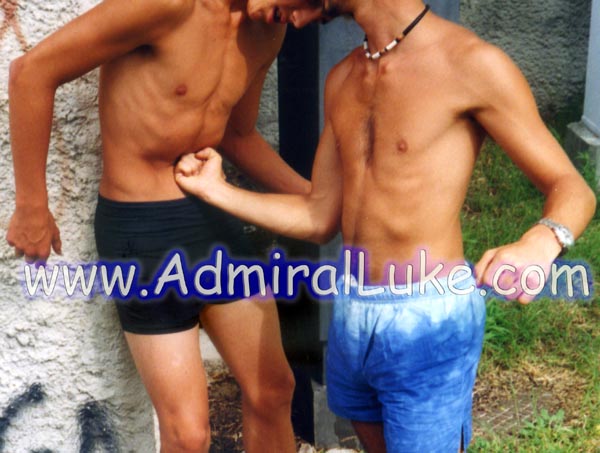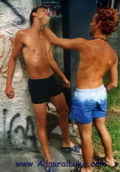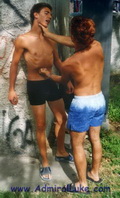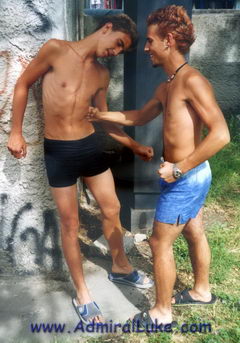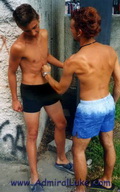 In an attempt to finish me off once again he placed his knee in my groin.

I started to go down but the little asshole grabbed a hunk of my hair to keep me upright. He wasn't finished with his punishment of me yet.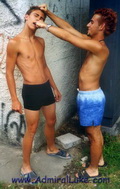 He delivered a direct shot to the nose, I could taste medal in the back of my mouth, and both eye were instantly filled with water as my vision was now totally obscured.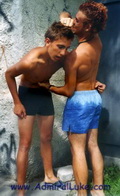 He followed by delivering a punch that drove deep into my Solar Plexus. I had to shallow hard to keep from vomiting. Then came a series of lefts and rights with each one seemed to drive deeper in to by redden belly. My arm was like lead, I was unable to lift them in my defense. I didn't know how much longer I was going to last. Robby paused stood back for a moment to admire his work once again.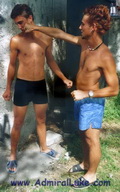 Then a right cross stung was landed to my left cheek.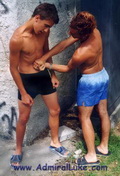 He then putting both hands together, then hammered them into my mid- section. The blow felt as if it went all the way to my spine, I felt my legs tremble as my knees gave way and I slumped to the ground. He grabbed my hair once again forcing me to look into his face.


We both knew I had nothing left, this victory would be his. He drove his fist into my left pictorial just above my heart. It was like a thunder bolt that rocked my entire body. My vision began to grow dark as I felt the oxygen being driven out of my lunges with his last two punches.


It as if a dark curtain was falling over my eyes; everything seemed to moving in slow motion. I felt like a rag doll as I slumped into his chest. He shifted, letting me slide the rest of the way to the cold ground. I struggled to clear my mind of the fog I was now in. I seem to recall him getting up. I felt his spit land on the side of my face. Then there was the pressure of his foot on my back. I knew he was raising him arms in victory as he stood over me. The haze was lifting I recall that he walked over to Josh and ask for a copy of the pictures when they were developed. Yeah right, no one will ever see those pictured on the internet.